One year ago I photographed one of the most memorable and elegant weddings. You can see my original blog post and photo gallery of Kylie & Taylor's wedding here. Since then their wedding has been featured on Belle The Magazine wedding blog as a perfect elegant, yet boho-chic wedding.
Today, in honor of their first wedding anniversary I am sharing a glimpse of their love story and some more memories and vendor details from their wedding day. Couldn't agree with you more Kylie, we all love a good man in uniform! Read on for more of their love story followed by some of their wedding details.
Wishing you a Happy First Anniversary Kylie and Taylor!
---
The Story of Kylie & Taylor
How Did You Meet?
"It all began in Mrs. James sixth grade class" as Taylor would say. Apparently he knew the minute he laid eyes on me that I was going to be the girl he would spent the rest of his life with. I on the other hand, didn't have the same reaction for quite some time, try maybe 7 years. Taylor took pleasure in bugging the absolute crap out of me from constantly texting me to putting dead snakes on my car. Let's just say Taylor wasn't on the top of my best friend list.

Then came our senior year of high school… I decided to attend the annual Friday night lights event at school and Taylor happened to be the quarterback of the football team. I can't really explain what finally clicked with me or even if it really did that night, but something about seeing him in that football uniform caught my eye! I decided I would send him a text that consisted of "you played really good tonight" or something like that. I couldn't believe myself. I just sent Taylor McCurry, the boy who got on my last nerves, a text message that was obviously going to toot his own horn.
Well, one thing led to another and we began dating officially on August 27, 2011, which already seems like forever ago. Looking back, I can't imagine my life without him. What was I thinking all of those years!? After graduation we spent the whole summer planning our new beginning of becoming a pirate at East Carolina University together.
We started college exactly a year from when we first got together. Some say that it's almost nearly impossible to stay together through college or that it isn't worth it, but I completely disagree. I can't wait to tell our children about all of the wonderful memories their Dad and I made during our college years, the list is infinite. I honestly couldn't imagine going through this phase in my life without my best friend and soulmate.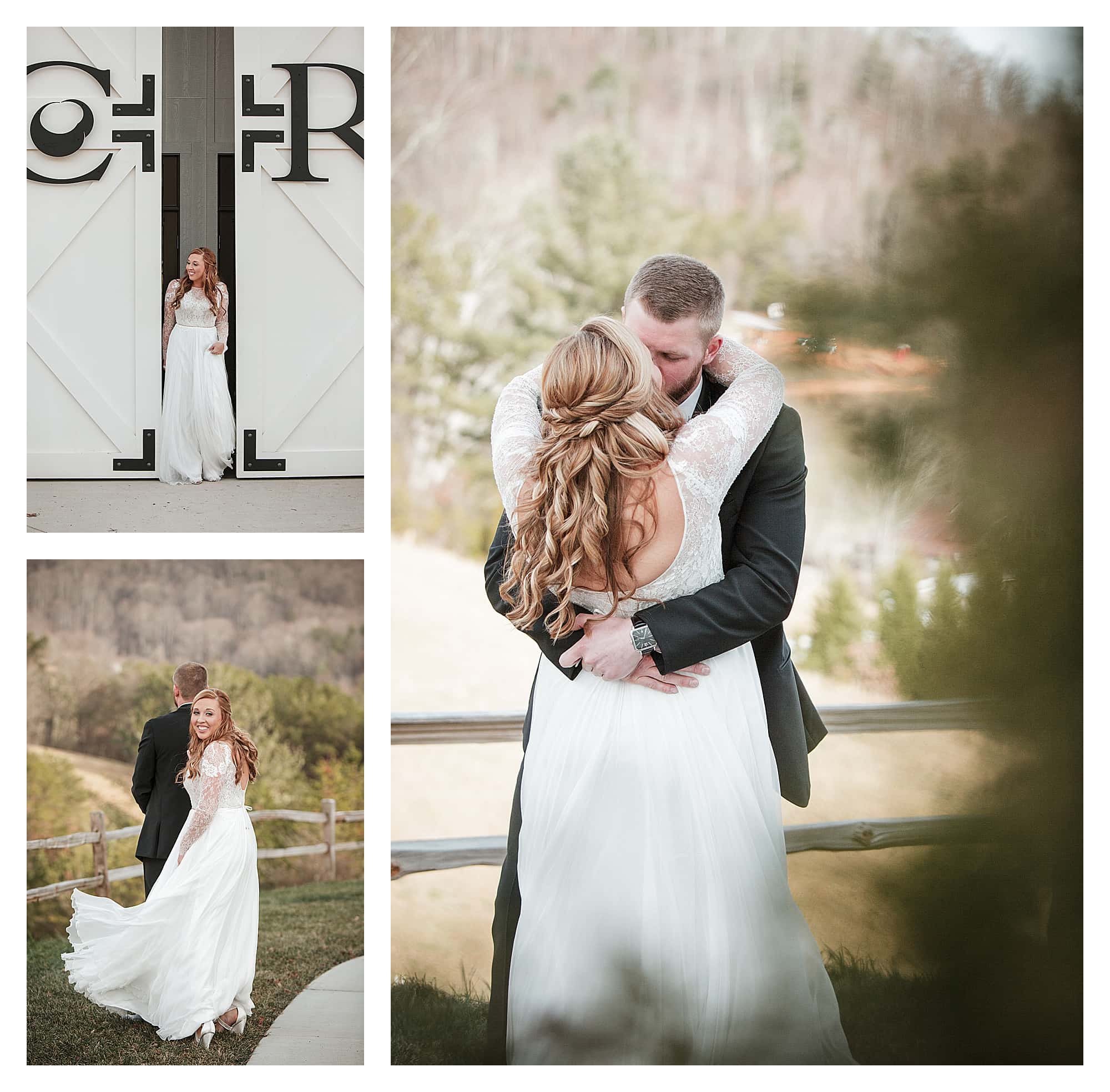 What Is Your Proposal Story?
December 17, 2015 will be a day that I remember forever. Thursday morning I woke up planning on having a day filled with fun activities as Taylor, my sister, and I showed our dear friend Pat Anderson around our hometown of Asheville, NC. We began our day with breakfast at our small yet delicious hometown spot known as "The Miami Restaurant". Taylor showed Pat his game day special which actually meant everything on the menu! Needless to say it was an excellent meal to start our adventurous day.
We then came back home to get "dressed up" for our day trip to the Biltmore Estate and The Grove Park Inn, for some unknown reason at the time they were adamant about us all looking our best. Around lunchtime we finally arrived to the Biltmore and as we toured we were mesmerized by the beauty of the house. Every square foot was meticulously decorated for Christmas and it was nothing short of perfection. We finished the tour of the house, walked to the front to take a few pictures and then it was off to the winery for some ice cream and relaxation.
Another hour passed and we continued our journey to the historic Grove Park Inn. We walked in the front door and although I have seen the Grove Park numerous times at Christmas, there was just something different about this time. The trees were a little bit prettier, it smelled a little bit better, and the lights were just a little bit brighter. I just had a special feeling about this Thursday night.
Taylor and Pat awkwardly went to the bathroom as soon as we got there. When they came out Taylor seemed a little off to me but I didn't think anything of it. We proceeded towards the gingerbread houses and Taylor all of a sudden wanted to sprint through and hold my hand? And as I normally would, I got an attitude and proceeded to ask Taylor why he was being so weird. Although we hadn't seen all of the houses in the hall we traced our steps back to the grand lobby to sit in front of the fireplace for a drink, at least that's what I thought and boy was I wrong. We had planned earlier for Pat to take a picture to send to his girlfriend and show her a little bit of Asheville, so when he asked if we could go and take pictures outside I thought nothing of it other than I didn't want to be out there for very long because it was cold!

We walked outside on the terrace to the bitter wind that I was dreading. Much to my disdain, Pat and Taylor were taking in the views as if they had never seen mountains before. I tried to hurry along the process but we just kept waiting and waiting on some people to move so that we could take a picture from the exact spot where they were standing! I was getting a bit fed up and started to get a bit of an attitude. Taylor quickly told me to calm down and quit complaining par usual. Finally, the people moved and we began to take pictures.
First of Pat, (for his girlfriend as was the original plan) then of Pat and Taylor, then of me and Taylor. As me and Taylor were taking pictures it seemed as if no picture was good enough for Taylor, which is very unusual. So we ended up taking about three of the exact same picture until of course my camera started to mess up. When we finally got the camera fixed Taylor got really adamant we try another pose. I was having none of this. I grabbed his jacket and pulled him over so that we could just take the picture and get it over with, but he refrained.
He then took a few steps away and grabbed my hand. I knew something was up when he got really serious and looked me in the eyes and said, "Babe, your my best friend…" He proceeded with the most heartfelt words I have ever heard. I began to tear up not knowing what was coming when he finally said, "Kylie Grace Anderson….(he knelt down) Will You Marry Me?" I was immediately overwhelmed with a mix of shock, joy, and confusion! In the midst of my tears-of-joy I was able to mudder, "Is this real?". And after he confirmed, I was drenched with joy and screamed "YES, YES, OF COURSE!!!" He stood up and slipped the most beautiful ring I have ever seen on my finger and we hugged and kissed to the sound of everyone at the Grove Park whistling and cheering! It truly was the most magical moment of my life! I never thought I could be this happy, but it only got better.

As I found out after living with her for two years, my friend Savannah Cherry has quite the loud voice, but at that moment it was music to my ears. As I heard this familiar sound I looked up and saw my amazing groups of friends running to me with open arms and tears of joy. We hugged, then cried and of course laughed once I figured out that they knew this was happening and didn't spoil the secret! After a million more pictures, we had a celebratory toast of champagne on sunset terrace. It was an amazing feeling knowing that you mean so much to people and that you are truly loved. I couldn't have felt more joy in a single moment. We spent the rest of the evening celebrating the love and happiness that Taylor and I have to look forward to for the rest of our lives.

The Story Behind The Ring

I have the honor of wearing a ring that is very old and belongs to a special lady in Taylor's life his Nanny. This ring was given to her by his granddaddy which he had specially designed and made in a small local jewelry store in Americus, Georgia. I couldn't have asked for a better ring and honestly am so thankful for the opportunity given to me to wear something that is so sacred and cherished by such an admirable lady. Taylor and I called her to tell her the good news and of course thank her, her words to me were, "I could not think of a better person to wear my ring, I know you will take good care of it", I think that's when it really hit me how special it was and how lucky of a girl I am.
---
Our Wedding Details
What Was The Vision And Inspiration For Your Wedding?
My vision was to have timeless, boho but elegant wedding, one that I can always look back and say that I absolutely loved the style. We chose our venue location because we wanted one that had crazy beautiful views, was a one stop shop for pretty much everything, and had a unique over-all experience unlike anything we have ever seen or heard of. My colors were a spectrum of pinks and off whites with a TON of greenery! I wanted the collective vibe to be very natural and romantic.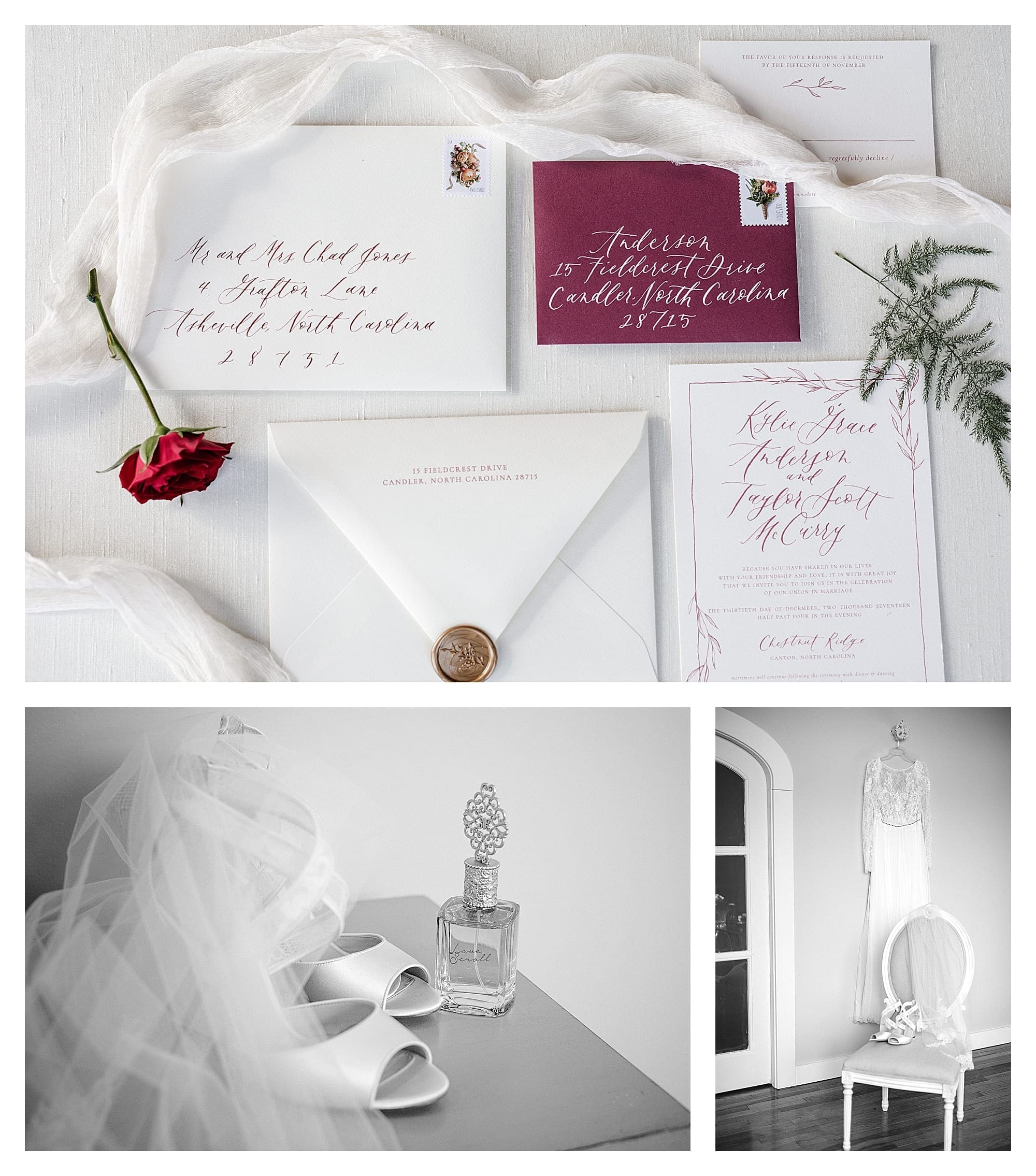 How Did You Choose Your Wedding Attire?
I found my dress at a local boutique in Asheville, Wildflower Bridal. This place is beyond compare to any bridal dress boutique in WNC. This was my first and only stop when I went dress shopping. My dress was made by a polish designer Anna Kara and was probably the most comfortable elegant dress I have ever wore. It was long sleeve with lace and had a perfect flow to compliment all the dancing that night. It was ANGELIC. I also got my veil and earrings from Wildflower too. Simply exquisite and it made me feel like the most lovely bride.
My bridesmaids wore a burgundy lace dress that I purchased from Bella Bridesmaids, who made this lengthy process so accommodating and easy-going. Their dress was stunning! My honoraries wore a gold dress from Lulu's online boutique and my special attendants wore a blush dress from LuLu's as well. I have to say every single girl looked breathtaking for my special day.

Taylor wanted a simple but sharp look with a black tux and tie. The gentlemen's tuxes came from a rental off of the website theblacktux.com and it was awesome because they shipped each individual groomsmen their tux two weeks prior to the wedding and then all of them sent everything back once the wedding was over. That way it was more affordable and they didn't have to worry about keeping anything they might not wear again. The guys loved this concept!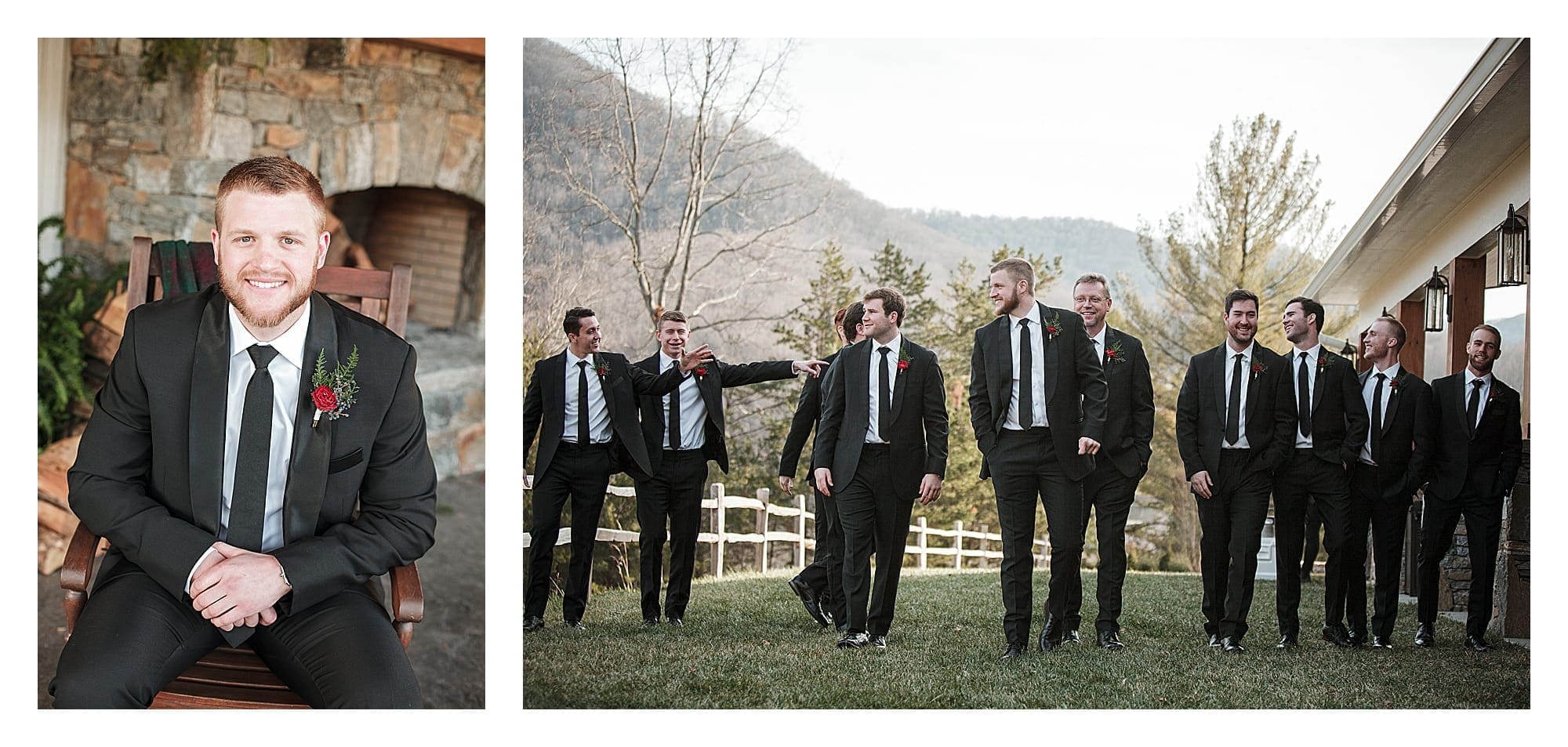 What Were Some Areas Of Your Wedding That You Decided To Splurge On And Skip Completely?
We wanted to have an all adult affair where everyone that was closest to us as a couple could come and celebrate the joining of us in the most sacred covenant with God. We wanted a laid back but beautiful event that gave a warm romantic and intimate feel to everyone there. The most important things were our ceremony, good food, endless drinks, awesome dance music to keep our guests entertained and good company. We splurged on the food, floral, transportation, DJ, alcohol and our firework show. We skipped wedding favors, the bouquet toss and garter toss and a guest book.

Who Designed The Flowers For Your Wedding And The Wedding Cake?
SpringVine Design did all things floral for our wedding and they did a spectacular job. I told this awesome team of florists that I wanted lots and lots of greenery, stunning flowers with focus on the colors red, deep wintry pinks, and ivory, and gold tones. They surpassed all of my wildest dreams. MY FLORAL WAS GORGEOUS!!!!!! SpringVine designed one of a kind pieces for my wedding and have some of the most extraordinary flowers I have ever seen! I mean can I say magazine worthy!
Our cakes were made by Nettie's Bakery located in Waynesville, NC. When Taylor and I went to our tasting, we loved every kind that we tried so much that we decided to have different cakes with different flavors so that our guests could try a little bit of everything. We had everything from red velvet to strawberry cream cheese. This local bakery is so cute and quaint, if you haven't checked it out, you definitely should!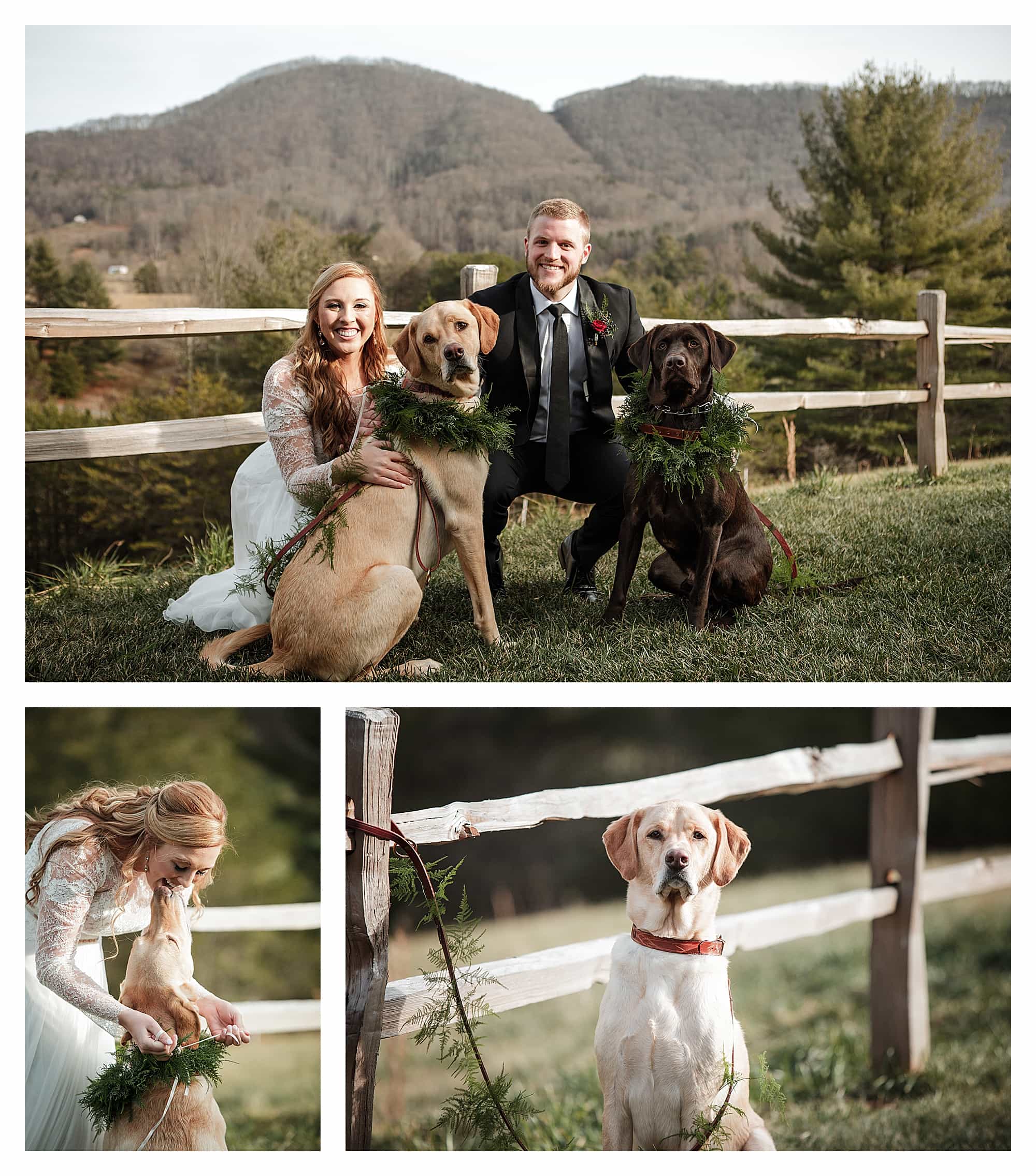 What Are Some Of Your Favorite Memories From Your Wedding Day?
The guys went skeet shooting onsite the morning of and they loved it. The first look was to die for and so intimate. Our ceremony was precious and so personal we will always cherish it, one of our dear friends that we met at college in a campus ministry married us and he did a phenomenal job.
Having a sunset photo shoot following our ceremony gave us some amazing photos and sweet time together one on one. Our food was so yummy and the DJ had us dancing all night long with all of our dearest family and friends!
We actually had our first dance outside on the patio and it was so unique and special. After our first dance song ended, we surprised everyone with fireworks to start off the party and celebration leading into our reception, it was truly magical.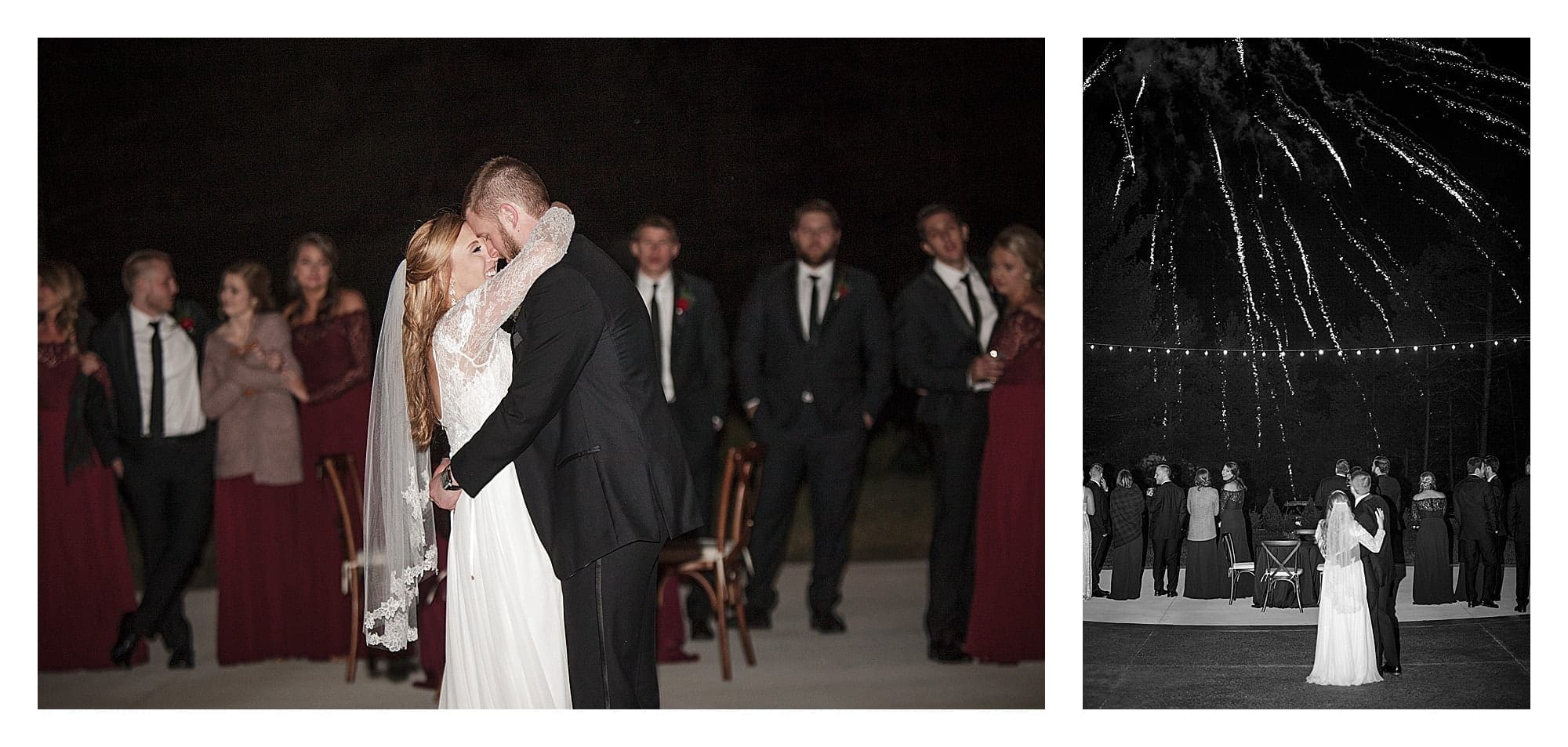 Did You Include Any Family Heirlooms Or Special Traditions?
I will always treasure that we had a washing of the feet ceremony which was so humbling. In honor of Christ washing the feet of his disciples at the last supper to show his servant mentality and humility towards his people. Taylor and I wanted to do this to imitate the Christlike love that a husband and wife show one another as they make the covenant together with Christ in marriage.
We also had a candlelight picture memorial for my grandmother who passed away from lung cancer two months before our wedding. She was one of the most influential women in my life and so we wanted to honor her in a very special way. I also carried my great-grandmother's handkerchief around my bouquet to honor her as well.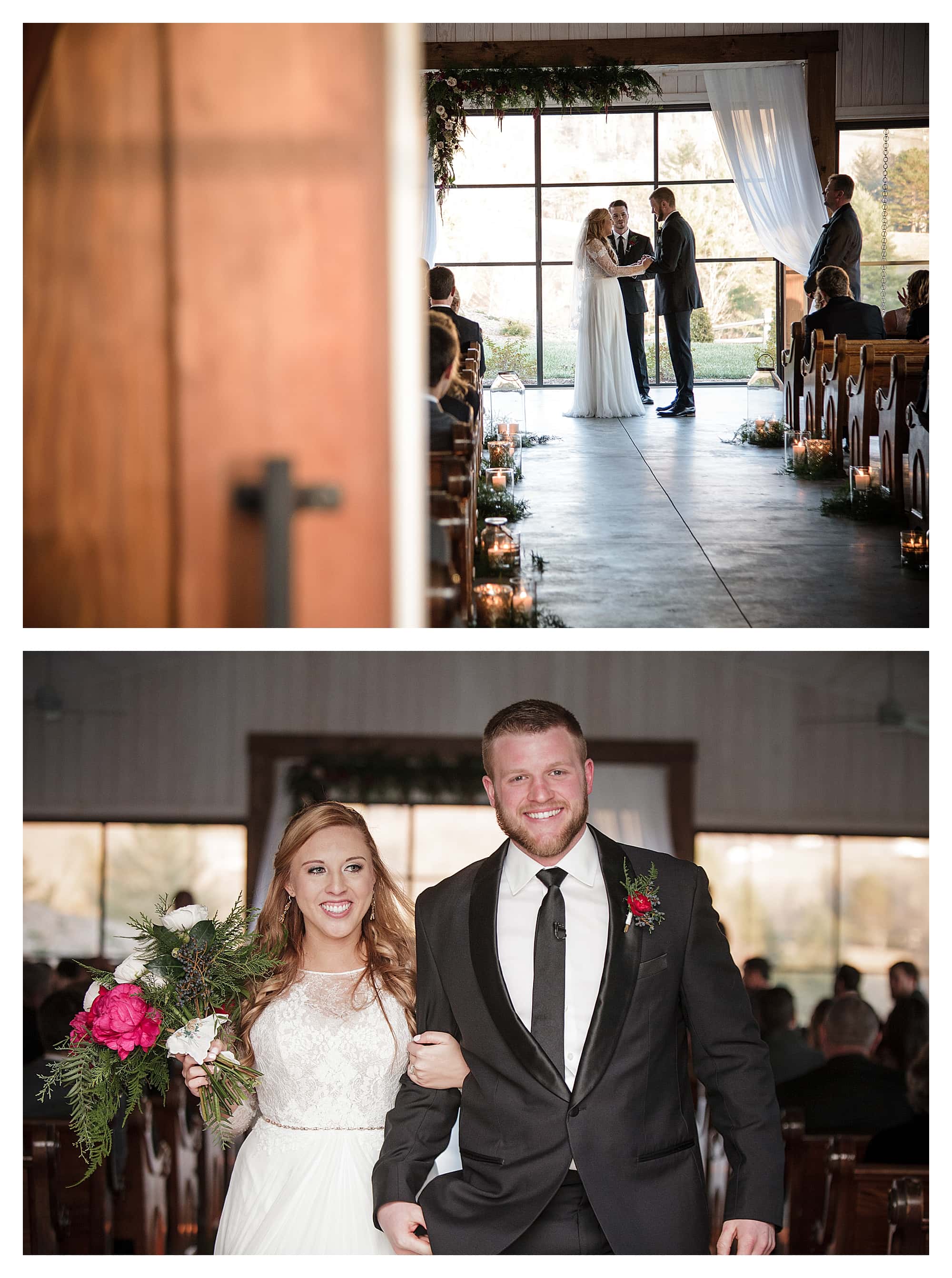 Do You Have Any Advice For Couples Who Are Planning Their Wedding Now?
Here's the deal, we all know how stressful wedding planning can be, but fortunately, Taylor and I had 2 years to take our time and plan which made our day everything we could have ever wanted. So, I am going to give it to you straight, you can spend a fortune and still not end up with the wedding you wanted and it's so easy to do.
I learned that how much money you spend, yes is a huge factor in your end result, but the MOST important and valuable thing is, who you have working on your vender team. If you don't have people who you trust, can be 100% honest and comfortable with, or overall portray your personal style, your wedding will not be anything that you envisioned.
With that being said, Taylor and I had the BEST vendor team and I am not just being biased when I say this. Seriously they were AMAZING! We are both so thankful. Our wedding day went off without one.single.thing. going wrong. It was a truly flawless and breathtaking day. Something that we both will cherish in our hearts forever.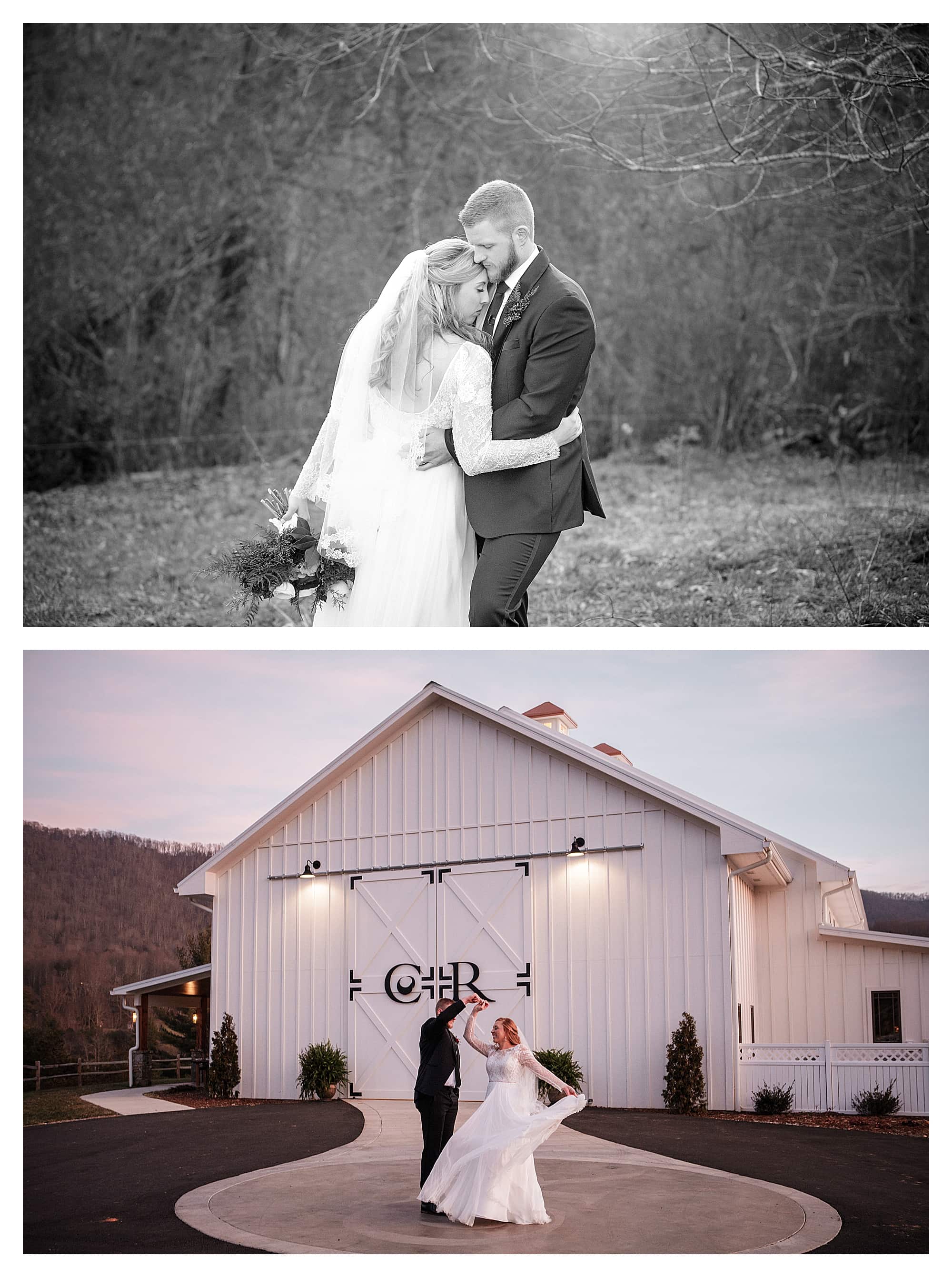 Want to see more from Kylie and Taylor's gorgeous day? Check out more from their gallery!
---
You can view other weddings, engagement and lifestyle sessions I have photographed at Chestnut Ridge and the Biltmore Estate by clicking the links below!
CHESTNUT RIDGE
Military Wedding in The Mountains of North Carolina | Leonora and Matt
Summer Wedding at Chestnut Ridge | Stephanie & Louis
Spring Wedding at Chestnut Ridge | Kate & John
Mountain View Winter Wedding | Allison & Ryan
BILTMORE ESTATE
A Fairytale Wedding at Biltmore | Chelsea & Kenyon
Biltmore Estate Proposal | Ben & Elle
Sunflower Engagement Pictures | Kate & John
Biltmore Maternity Photography | Matelyn and Tyler